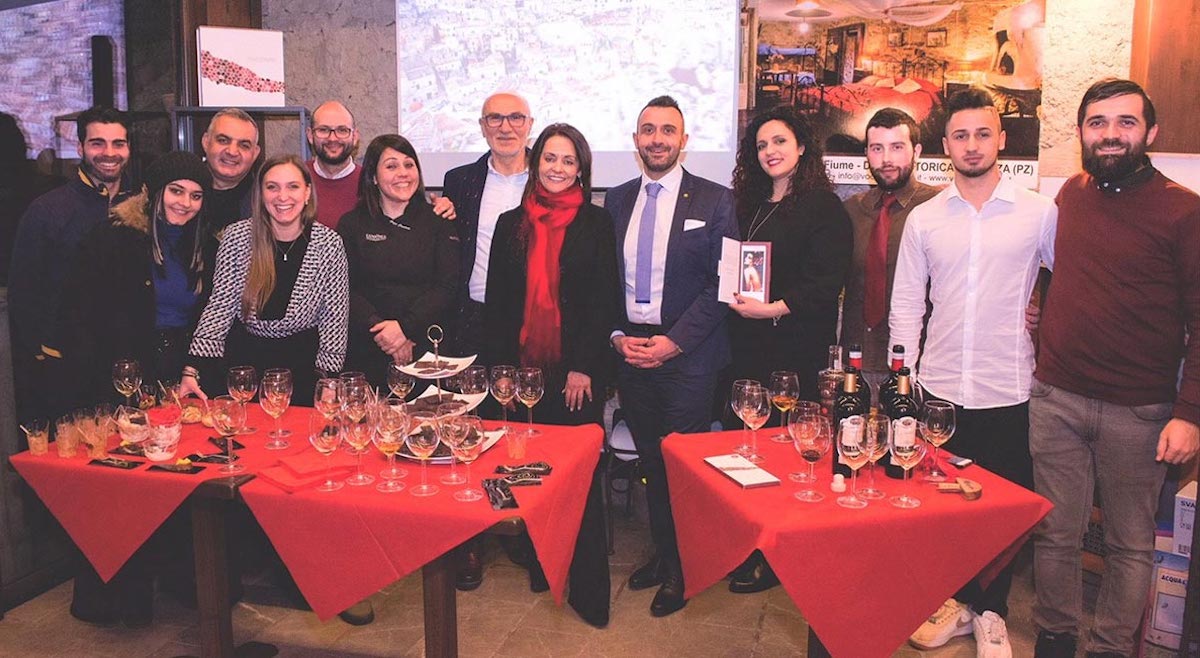 Cioccocrusco: a 360-degree sensory experience
---
"We created the passe-partout to present our Cruschi Peppers in an innovative, crisp and crunchy way all over the world". The words of Antonio Cammarota, the CEO of Cioccocrusco, which officially launched its creation, partly 'made in Basilicata' and partly 'made in Switzerland', on Sunday 27 January: a bar of dark chocolate encasing small flakes of IGP Senise Cruschi Peppers, which manage to preserve their crunchiness, releasing an intense and unique flavour.

"We remain firmly rooted in our traditions, but revisiting them in a modern way"; this is an artisanal product created to elicit "a 360-degree sensory experience," explained Cammarota during the press conference, held at the B&B La Voce del Fiume – A charming historical residence in Brienza.

Cammarota: lots more interesting news coming soon

"In Switzerland, Cioccocrusco has had a very enthusiastic reception, and there are good prospects elsewhere, but we want to keep our feet on the ground", added Cammarota, before saying a special thank you to the Swiss master chocolatier Willy Schmutz, "with whom we created and perfected Cioccocrusco. This year, for the third time in a row, Willy was named the top Swiss master chocolatier, and in 2015 he was recognised as one of the best in the world".

Adobbato: from today, we start telling a new tale of the region

"Today we are inaugurating a new international partnership with Cioccocrusco, fuelled by mutual feelings," declared Rocchina Adobbato, owner of the B&B La Voce del Fiume – A charming historical residence. "Both Antonio and I love our land, and we want to let the world discover it, make it known through its beauty and products. From today, a new tale of the region is also beginning for this B&B, with Cioccocrusco.

During the press conference, the nutritionist Raffaele Lopardo also spoke about the nutritional characteristics of both the chocolate and the IGP Senise Cruschi Peppers, particularly "rich in vitamin C", while the sommelier Lucia Telesca selected some wines from the Cantine del Notaio to be enjoyed with Cioccocrusco.

Telesca: Cioccocrusco has highly interesting aromatic qualities

"Biting into the square with your teeth," said Telesca, "you can really feel the graininess of the hand-chopped Cruschi Peppers, with their varied texture. A sensation that is fully experienced on the palate."

"You will have different sensations when you taste a square of Cioccocrusco," beginning with the scent, "from the very intense and interesting aroma" to the "melt-in-your-mouth" cocoa, which releases the flavour of the Cruschi Peppers. "We have managed to create a product with flavours that mix together, but are, at the same time, very distinct and recognisable."

Last but not least…

Finally, the chef Enza Crucinio presented Cioccocrusco in three different experiments: Cioccorusco Brownie with Metapontino lemon curd and tiny pieces of Senise Cruschi Peppers; creamy Podolica ricotta, crumble with Matera bread, ganache and pieces of Cioccocrusco; Cioccorusco mousse, Lucan raspberries and crunchy pistachio from Stigliano.

"It is important that our guests also eat with their eyes, because the first sensation is visual, followed by taste, but also sound," explained Crucinio.

Cioccorusco: a discovery in the discovery

From the limited edition bar dedicated to the art world, to the 'unconventional' chocolate box, many other novelties are coming out of the world of Cioccocrusco because, as Cammarota says, "it's not a product being sold, but a story being offered".