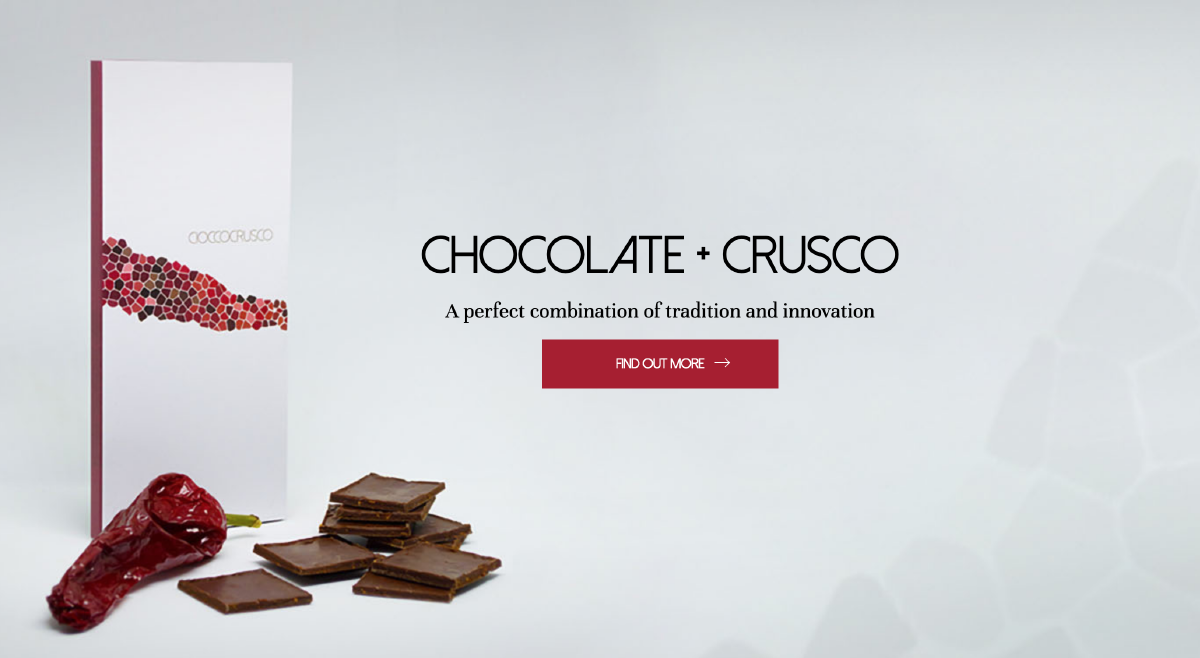 Cioccocrusco's new (multilingual) site is online!
---
The wait is over: Cioccocrusco's new site is online, and now it is finally possible to buy the bars created from the union between Senese Cruschi Peppers and Swiss dark chocolate.

The Cioccocrusco site is in Italian, German and English

A multilingual platform – in Italian, English and German – where you can find out many interesting facts about this unique product: we have prepared in-depth articles, interviews, videos and photographs to present and explain all the details of such an original chocolate.

Six sections, each describing the world of Cioccocrusco.

In addition to finding out "What is Cioccocrusco?", a section dedicated to the product's origins and how it is made, the new site lists all the 'physical' points of sale. Being an e-commerce business, the bars can of course also be purchased online, with delivery throughout Europe in a maximum of five working days. In addition, each order is carefully placed inside protective packaging to preserve its flavour, while ensuring the bar's integrity.

Would you like to become a partner of Cioccocrusco?

We are partners with professionals in the industry, with whom we share both a gourmet philosophy and a real passion for this profession. To continue expanding our network of collaborations, there is a special section on the site with a form created especially for those wishing to include Cioccocrusco on their menu.

You can also find Cioccocrusco on Facebook and Instagram

The official Facebook and Instagram pages are already up and running so you don't miss any updates on Cioccocrusco events and news.

If quality, passion and professionalism are at the base of our product, we also wanted to aim high with our site, to let you buy (and taste) Cioccocrusco at any time and from anywhere in Europe.
…And don't worry: we're already getting ready for the rest of the world!