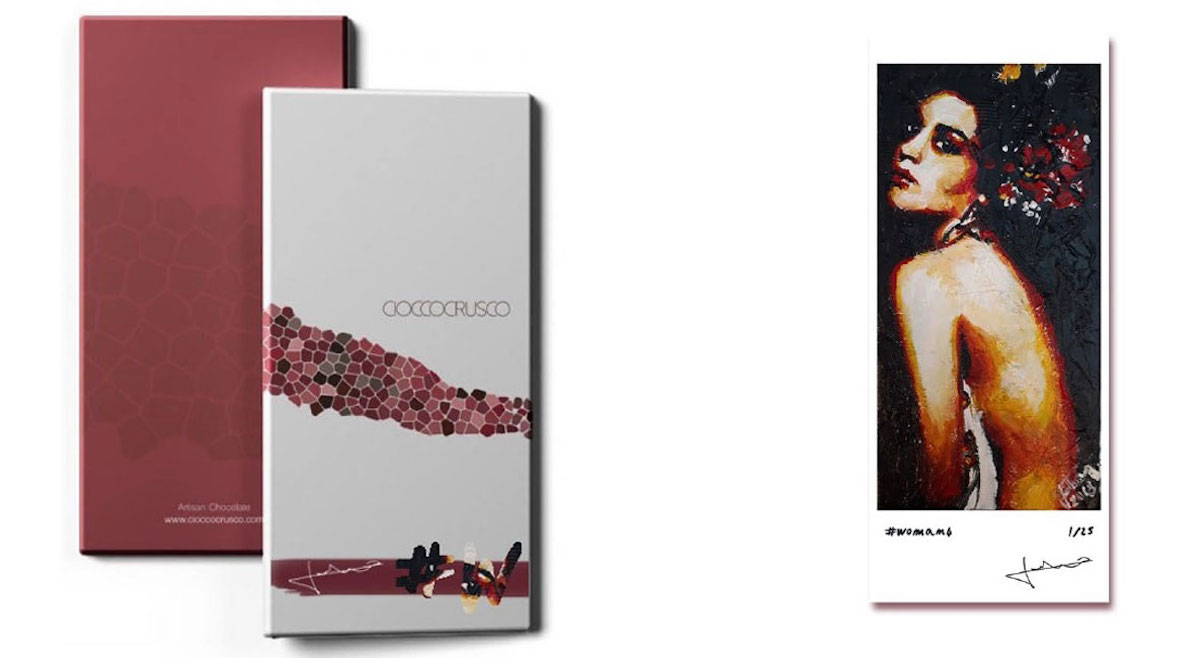 Cioccocrusco: the world of gastronomy meets that of art
---
A master chocolatier prepares his raw materials in the same way a painter spreads the colours on his canvas. Physical commitment inevitably intertwines with emotional investment…
The result? Matter and colour blend inseparably, giving life to a unique and inimitable idea, precisely because the passion of the gesture can lead to amazing results.

For Cioccocrusco, the world of gastronomy has united with the world of art, and the work of the Lucan artist Sante Muro is proof of this. From 10 February to 16 March, in fact, Matera will host his exhibition "Woman", a true visual journey through the world of female beauty.

The event is at "Caffè Vergnano 1882", at Via del Corso 78, where for over a month you can admire 15 of Muro's paintings while enjoying Cioccocrusco itself.

In Matera, the exhibition by Sante Muro: "Woman"

According to the artist, born in 1978, it is "a new creative direction" whose objective is "to explore the world of female beauty, through small paintings" of nudes and faces, done in acrylic pastes – acrylics added to other materials, such as quartz.

A tactile kind of painting, with the use of primary colours in addition to black and white: "The paintings are all very bright, with very rich colours," explained Muro, "that transmit energy through both texture and colour, precisely to show the primordial beauty of a female face, without the mediation of lands or particular colours."

A 'revived' exhibition for the limited edition of 25 signed artistic Cioccocrusco bars, whose wrappers have been created "with amaranth acrylic brushstroke and by affixing the symbol '#W' with a watermark of the silkscreen work," with a print of the same painting, used as a poster for the exhibition, inside the package.

In this case more than ever, therefore, art and gourmet chocolates reflect each other, and are found in the material and production of both the paintings and the bars. "In some places, the colour of my paintings is like chocolate," added Muro, "it is the raw chocolate material, there are many references. I work on my canvases with a spatula, like a master chocolatier" when he tempers chocolate.

In addition to the darker tones, which are clearly reminiscent of dark chocolate, in the painting chosen as the exhibition poster we can also see the crown of red flowers in the girl's hair, "that can also recall peppers, just by their orange colour".

Muro: Cioccocrusco is an original idea, it will be successful

"Cioccocrusco is a very special product, delicious, gourmet cuisine", with a "complex" taste to savour. The interesting thing is that the pepper remains crunchy, and this is very difficult! I expected it to be flaky, but instead it stays crunchy. An original idea, very nice, that will be successful."